PHILIPS VISAPURE ESSENTIAL (2 SPEED SETTING) SC5275/10
Philips VisaPure Essential employs a new face care technology taking your daily skin cleansing to a new level without additional effort. Leave your skin soft, clean and radiant. This model includes an advanced 2 speed setting and additional brushes as compared to our model SC5265/12.
WATCH NOW!

HIGHLIGHTS:
· Dual motion
· 2 speed setting
· Skin Zone timer
· Waterproof
· Additional brushes
· Cordless
· Battery indicator
· Charging stand
· Rechargeable
· Slim ergonomic handle
Benefits of the VisaPure Essential
· Skin cleansing: 10X more effective than cleansing by hand
· Exfoliating: Removes more dead skin cells
· Gentle: as gentle as manual cleansing
· Absorbtion: Improves absorption of skin care products
· Microcirculation: Improves microcirculation for more radiant-looking skin
PRODUCT FEATURES: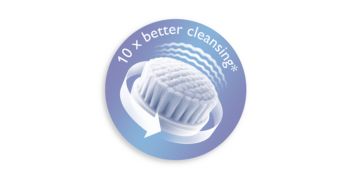 Vibrating & Rotating Brush Pulsating movements gently break up surface impurities including dirt, dead skin cells and make-up while rotating movements sweep the impurities away, leaving the skin more deeply cleansed. These coordinated movements of the bristles gives a thorough and comfortable cleansing experience.
2 Speed Settings for Gentle or Deep Cleansing 2 different speed settings are provided: Speed one, 'gentle cleansing', gives a mild and soft cleanse while Speed two, 'deep cleansing', gives a more intensive, yet comfortable cleanse.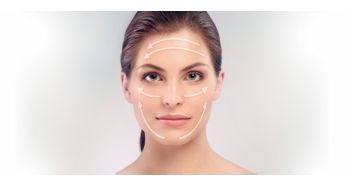 One minute timer for the full face The face can be divided into three zones: the T-zone, the left cheek and the right cheek. Philips VisaPure Essential suggests changing the area of the face after 20 seconds. The full program lasts 1 minute after which the VisaPure Essential automatically shuts off prevent overtreatment.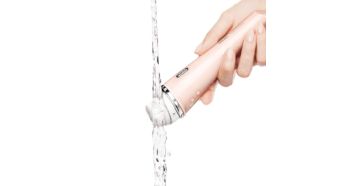 Use it in the shower! Philips VisaPure Essential is waterproof and can be easily used in the shower.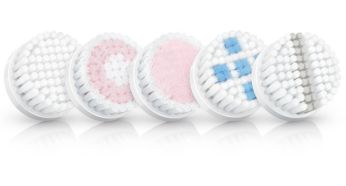 Comes with a range of additional brushes 2 brushes are included with the Philips VisaPure Essential. One for Normal skin and one specifically designed for Sensitive skin types. An Exfoliating Brush Head is available separately.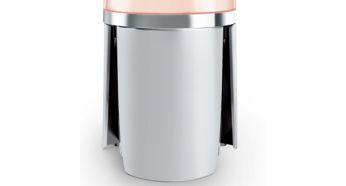 Elegant Charging Stand The stand complements the iconic design of the Philips VisaPure Essential. It holds the brush, letting air naturally dry the used brush. A full charge is completed in 6 hours.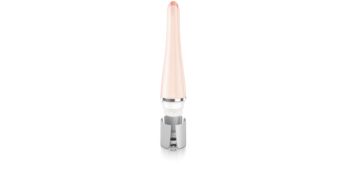 30 minutes of cordless use after full 6 hour charge equivalent to 15 days when used twice a day.
Eco Passport Philips Green Logo Philips Green Products can reduce costs, energy consumption and CO2 emissions. How? They offer a significant environmental improvement in one or more of the Philips Green Focal Areas – Energy efficiency, Packaging, Hazardous substances, Weight, Recycling and disposal and Lifetime reliability
SPECIFICATIONS:
Ease of use
• Timer: Skin zone timer for 3 areas
• 2 Speed settings: Gentle and Deep cleansing
• Waterproof: Can be used under the shower
• Cordless: up to 30 uses without charging
• Stand: Charging and storing stand
• Battery indicator: Illuminated icon indicates battery life
• Handle: Slim ergonomic design
Application areas
• Face and neck: Cheeks, Chest, Chin, Fronthead, Neck, Nose
Items included
• Brush heads: Normal skin brush head, Sensitive skin brush head
• Instruction for use: Quick start guide, User manual
• Stand: Charging and storing stand
• Power adapter: 100 - 240 V adapter
Power
• Charging time: 6 hours
• Power system: Rechargeable battery
• Running time: 30 uses of 1 minute each
• Voltage: 100-240 V
Service
• Warranty: 2-year limited warranty